Want to

own a Jeep Wrangler

...

Pros and Cons of Owning a Jeep Wrangler.



The Jeep Wrangler is definitely not for everyone. It largely depends on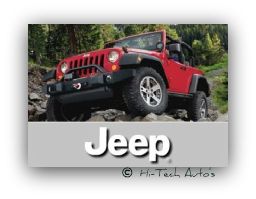 your personality (and your sense of adventure) as to whether or not you should be the owner of one.
For example, a sports car enthusiast will not like the Wrangler.

Those who prefer the luxury of a smooth ride or leather seats will be highly disappointed. Families with children will prefer the safety and security that other SUVs provide.

In sum, those who view driving simply as a means of getting from one place to the next should look elsewhere, because the Wrangler is for those who seek adventure, those who have an interest in taking their vehicle places they've never gone before, and those who enjoy driving for no reason other than to be out in the great outdoors.

Some think of a Wrangler basically as a crude form of SUV, but the Wrangler is more about attitude and less about practicality than most other SUVs on the market.



Here are 5 reasons why you should own a Jeep Wrangler.




Drive to places you've never been before.

The attention you receive from other drivers.

You will have a new fraternity of friends.

Become a do-it-yourself mechanic.

Enjoy driving during all weather conditions.










2008 Jeep Wrangler 3.8 Unlimited Rubicon Auto Yellow
The

2008 Jeep

Wrangler's sole engine is a 3.8-liter, 202-horsepower V-6 engine. The V-6 comes with either a six-speed manual or four-speed automatic transmission.

2008 Jeep Wrangler 3.8 Unlimited Rubicon Auto Red
Wrangler can be equipped with an electronic-disconnecting front stabilizer bar, locking differentials, and specific tires.

Want a 2008 Jeep Wrangler Sahara 2.8 CRD with only 26.000 Km's?
This Jeep is one of the cleanest vehicles on our showroom floor.
We bought the Sahara from a dealer and everything like spare key's, service
record's are in place. If you are a 4X4 Lover this is for you!