The Alfa Romeo Car...
MiTo GTA concept
Alfa Romeo Car:

The car has a new "

Alfa DNA

" system which allows the driver to choose between three different driving settings:

Dynamic, Normal, and All-Weather.



This system controls the behavior of the engine, brakes, steering, suspension and gearbox. The MiTo also features LED tail lights and 250-litre (8.8 cu ft) of luggage space.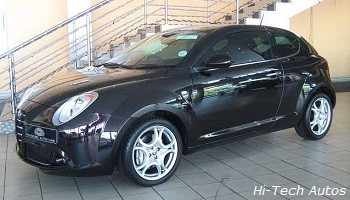 The

MiTo

also features a Q2 electronic differential on the front wheels, which allows for faster and tighter cornering without loss of traction. The aggressiveness of the differential is linked to the DNA switch.


| | |
| --- | --- |
| | The GTA (Gran Turismo Alleggerita), the sportiest version of the MiTo was unveiled in March 2009 Geneva Motor Show as a prototype. This version has 1.75 litre turbocharged engine with direct fuel injection and variable valve timing both inlet and exhaust. |


The choice of engine size is very significant - the 1750 DOHC inline 4 engine was the largest engine available in Alfa Romeos for many years, and therefore an association certain to be prized by Alfisti. Therefore, this particular displacement is certain to guarantee sales among enthusiasts.

The maximum power is 240 PS (177 kW; 237 hp). The MiTo GTA has top speed of 250 kilometres per hour (155 mph) and acceleration from zero to 100 kilometres per hour (62 mph) in 5 seconds.

The weight of the GTA has been reduced by using carbon-fiber for the tailgate spoiler as well as roof and mirror fairings. Aluminium is also used to reduce the weight. The suspension is lowered by 20 millimetres (0.8 in) and the car has active rear suspension.


Custom Search
Ready to buy or sell a car, but don't see the motor vehicle you want? No problem! Just fill out this
form
and we will find just the vehicle you're looking for!





Alfa Romeo Car - Back To 2009 Mito