Alfa Romeo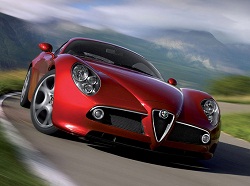 The story goes that Henry Ford used to tip his hat when he saw an "Alfa Romeo".
The company has come through a century of history.
And to celebrate the 'Cuore Sportivo' (sporting heart) of this sporty car we have prepared a journey through time, decade to decade from its origins to the present day.
The themes that make up the history are:
THE COMPANY: More than simply the story of the company as an institution, but also Alfa Romeo's long adventure, from the early years of the last century to the present day, in a historical journey full of color, facts and personalities.
PASSION: Since 1910, enthusiasts and admirers have been inspired by the evolution of this car. The brand has been the subject of books and films, an object of desire, a status symbol, an image of beauty and an Italian expression of devotion.
CARS: From the Torpedo to the Duetto by way of the Giulietta, they are the unforgettable technological masterpieces that captured the imagination of car lovers all over the world.
PERSONALITIES: To the greats who have contributed to the creation of this legend, from Tazio Nuvolari, the "flying Mantuan", to Ferrari, Fangio, engineer Merosi, and designers Jano, Pininfarina, and Zagato.
---
2007 Alfa Romeo Spider 3.2 JTV - 24,000 Km's Red in Colour
Since 1910, enthusiasts and admirers have been inspired by the evolution of this car.

2007 Alfa Romeo Spider 2.2 JTS 40.000 Km's Silver in Colour.
The Alfa Spider is synonymous with freedom, technology and pure Italian style.It's a legendary open top sports car

Most fines and demerits can be overturned because of the rules.
Did you know you can get many fines refunded? If you have paid a traffic fine since 1November 2008, you may well get a FULL REFUND of that fine.

Why are we the best at credit? Because that's all we do.
We don't just understand credit, we understand you. Whether you need credit to get ahead in life, to improve your home or for emergencies, you can rely on us to partner you along the way.

The Ultimate Step By Step Restoration Guide For Classic Car Lovers.
Restore Cars Fast, whether you are a hobbyist, a mechanic or a businessman you must read this one.

Draw Aston Martin Convertible's in 3D following our clearly marked steps.
Join the hundreds of other Artists who have followed our step by step course. All the steps have been broken down into simplistic instructions so even the novice can learn to draw!